We are Manufacturer, Supplier, Exporter of Magnetic Lifter, Permanent Magnetic Lifter, Electromagnetic Lifter ranging from 100kg to 5000kg.
UPTECH ENGINEERING OFFERS "ULTRA" BRAND PERMANENT MAGNETIC LIFTER FROM 100KG TO 5000KG.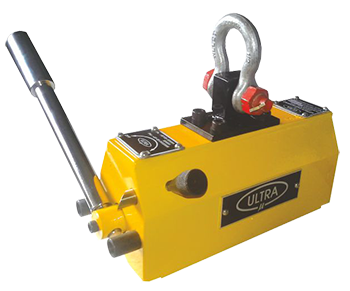 Use For Pickups & Transfer Ferrous Parts Like Blocks, Press Moulds, Round Bars Ets
Zero Electricity Required
Easy On - Off By Lever
Powerful Mdfeb Magnets Are Used
Spring-Loaded Device Lock Is Provided For Safety
Handling Of Permanent Magnetic Lifter Is Reliable, Safe, Quick Secure & Economical
All Necessary Safety Certificates Are Issued By Uptech Engineering.
Widely Use To Saving The Lifting Time.

Tested Capacity 1 : 3.5 Times
Sr. No.
Cat No.
Size (mm)
(Height is without hook)
Lifting Capacity
for flat job
Tested Capacity for Flat Job (1 : 3.5 Times)
Weight
0
UL - 80500
90L x 65W x 85H
100kg

350kg
4kg
1
UL - 80501
170L x 85W x 105H
200kg
700kg
9kg
2
UL - 80502
170L x 85W x 105H
250kg
875kg
9kg
3
UL - 80503
230L x 85W x 105H
300kg
1050kg
13kg
4
UL - 80504
260L x 85W x 105H
450kg
1575kg
14kg
5
UL - 80512
255L x 110W x 130H
500kg
1750kg
14kg
6
UL - 80505
290L x 110W x 130H
600kg
2100kg
25kg
7
UL - 80506
290L x 110W x 130H
700kg
2450kg
30kg
8
UL - 80507
350L x 130W x 135H
1000kg
3500kg
45kg
9
UL - 80508
395L x 130W x 160H
1500kg

5250kg
68kg
10
UL - 80509
460L x 170W x 185H
2000kg
7000kg
103kg
Tested Capacity 1 : 3 Times
Sr.No.
Cat No.
Size (mm)
(Height is without hook)
Lifting Capacity
for flat job
Tested Capacity for Flat Job (1 : 3 Times)
Weight
0
UL - 80500 / A
90L x 65W x 85H
100kg
300kg
4kg
1
UL - 80501 / A
170L x 85W x 105H
200kg
600kg
9kg
2
UL - 80502 / A
170L x 85W x 105H
250kg
750kg
9kg
3
UL - 80503 / A
230L x 85W x 105H
300kg
900kg
13kg
4
UL - 80504 / A
260L x 85W x 105H
450kg
1350kg
14kg
5
UL - 80512 / A
255L x 110W x 130H
500kg
1500kg
14kg
6
UL - 80505 / A
290L x 110W x 130H
600kg
1800kg
25kg
7
UL - 80506 / A
290L x 110W x 130H
700kg
2100kg
30kg
8
UL - 80507 / A
350L x 130W x 135H
1000kg
3000kg
45kg
9
UL - 80508 / A
395L x 130W x 160H
1500kg
4500kg
68kg
10
UL - 80509 / A
460L x 170W x 185H
2000kg
6000kg
103kg
11
UL - 80510 / A
555L x 270W x 270H
3000kg
9000kg
280kg
12
UL - 80511 / A
715L x 350W x 310H
5000kg
15000kg
540kg